New Hotels in Memphis TN 2022 - 2021 Best Newest Openings
Find the newest, best new hotels in Memphis TN (Tennessee), USA opened recently - Caption By Hyatt (Jun 2022), avid Southhaven (2021), Fairfield Arlington (2021), Memphian (2021), Courtyard East Galleria (2021), Hyatt Centric (2021), Canopy By Hilton Memphis Downtown (2020)...
245 S. Front Street, Memphis, TN 38103, USA

This new Hyatt hotel in Memphis was recently opened in late June 2022. The Caption Hotel offers modern guest rooms or suites and features an on-site restaurant / bar / cafe, a fitness center and meeting facilities. Read more...

---
6863 Hospitality Lane, Southaven, MS 38671, USA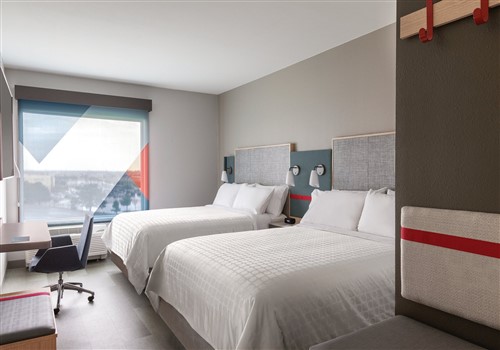 This new hotel in Southaven (a suburb of Memphis located just across the state line in Mississippi) offers modern guest rooms that come with a daily complimentary breakfast included in the price of your stay. Facilities at the property include a 24/7 fitness center, free WiFi and free parking. Read more...

---
This page contains third party links to our affiliates where we may receive a commission if you make a booking (at no extra cost to you).

---
4928 Fair Springs Cove, Arlington, Tennessee 38002, United States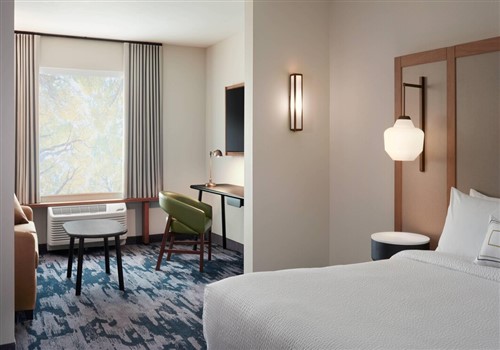 This new hotel in Arlington, TN (30 minutes drive NE from Memphis city center) was opened by Marriott in late November 2021.
Enjoy some small town charm at this newly built hotel (Fairfield Inn & Suites will be the first and only hotel in the town of Arlington).
The property offers a total of 110 guest accommodations in rooms and suites and features an outdoor pool, fitness center and free hot breakfast.

---
21 S Cooper Street, Memphis, Tennessee 38104, United States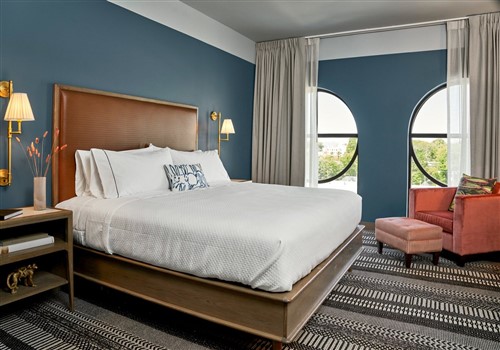 The Memphian is a brand new hotel in Midtown Memphis opened by Marriott under their boutique Tribute Portfolio brand in May.
Located in the Memphis Theater District, (part of the Overton Square Entertainment District) there are plenty of things to do and see just minutes away from the hotel entrance, along with dozens of dining and entertainment venues all around.
The Memphian offers modern, comfortable accommodation in either rooms or suites and features the Complicated Pilgrim Restaurant and The Tiger And Peacock rooftop bar.

---
2785 New Brunswick Road, Memphis, Tennessee 38133, United States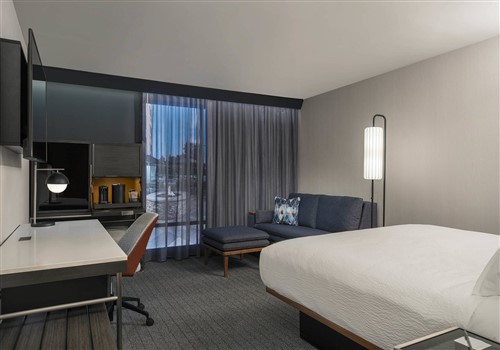 This new Marriott hotel in Memphis was opened in May and is located just off I-40 in the suburbs of Memphis (15 miles from Memphis city center) , with a number of shopping and dining outlets close by.
The property features a fitness center and an on-site restaurant, The Bistro, serving a bar-style menu.

---
33 Beale Street, Memphis, Tennessee 38103, United States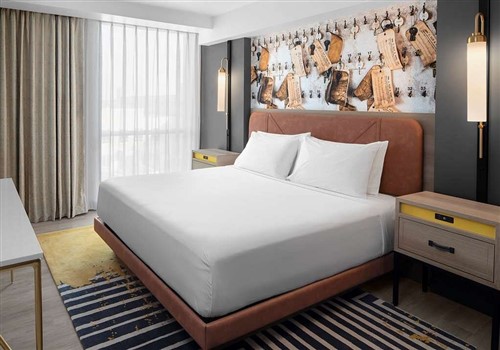 Opened in April, this new hotel in downtown Memphis by Hyatt is located close to the Mississippi River along the famous Beale Street. This street is world famous for being the entertainment district of Memphis and is home to many historic blues clubs, bars and stores.
The Hyatt Centric Hotel Beale Street offers a range of guest rooms and suites with oversized windows allowing fine views over the city or the Mississippi River and the Hernando De Soto Bridge.
Facilities at the property include a resort-style swimming pool, a fitness center, a lobby bar, an in-house restaurant (CIMAS) and a rooftop lounge/bar.

---
164 Union Avenue, Memphis, TN 38103, United States of America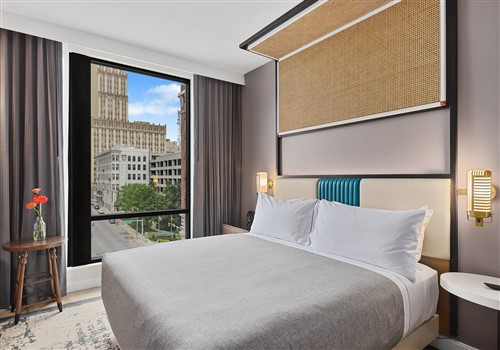 Opened in the fall, the Canopy Hotel Memphis Downtown is a new hotel located next to the Autozone Park Baseball stadium in downtown Memphis. Nearby attractions close to the hotel include the Memphis Music Hall of Fame, Beale Street and the Memphis Rock 'n' Soul Museum (5 - 10 minutes away).
The hotel has a total of 174 modern guest rooms and suites and features The Curfew sports bar and tavern, and a fitness center.

---
6811 Travure South, Germantown, TN 38138, USA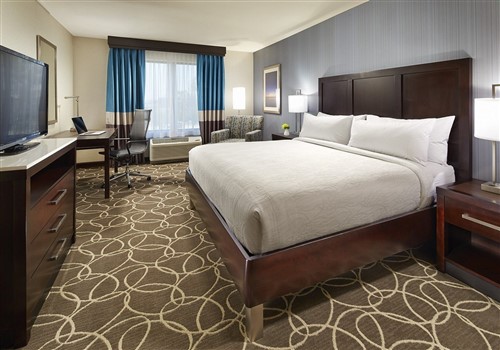 This new hotel in Germantown, TN (a suburb of Memphis) was opened by Hilton under their mid-priced Garden Inn brand.
Located just a few minutes away from the center of Germantown, the Hilton Garden Inn Hotel offers a total of 129 guest rooms and features The Garden Grille & Bar, an outdoor pool, and a gym.

---
477 S Main Street, Memphis, Tennessee 38103, United States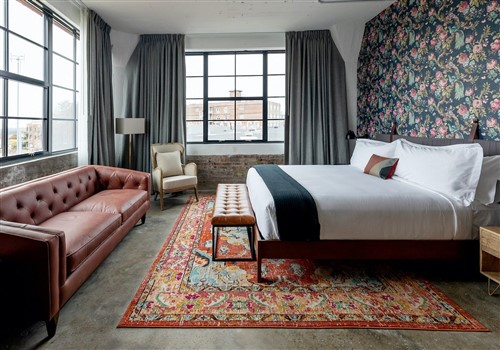 This new boutique hotel in Memphis is located on the corner of Main Street and E Butler in the South Main Historic Arts District. Housed in a former warehouse, ARRIVE offers a total of 62 guest accommodations in studio rooms, double rooms and lofts.
The hotel features an all-day bakery and café, a shuffleboard bar, and a cocktail bar.

---
Find more hotels in popular destinations in Tennessee:

---
This page was last updated: 2022-07-01
We try to keep our pages about new hotels in Memphis, TN, as up-to-date as possible and will be updating this page when any new hotels open or when any upcoming hotels in Memphis open for reservation. However, if you know of any good quality, recently opened new hotels not mentioned in the list above, or you are the owner / manager of an upcoming hotel in Memphis opening soon and want some publicity for your grand opening, you can contact us here and let us know the details so that we can possibly add your property to our site.
Tags / Keywords:

New hotels in Memphis Tennessee
New hotels in Memphis TN
Newest hotels in Memphis
Newly opened hotels in Memphis
Nuevos hoteles en Memphis Tennessee
Nouveaux hôtels à Memphis Tennessee
Neue hotels Memphis Tennessee

---
---
---
New hotels opened in popular destinations around the USA:
Albuquerque - Amarillo - Anaheim (Disneyland) - Anchorage - Atlanta - Austin - Baltimore - Baton Rouge - Birmingham - Boise - Boston - Boulder - Charleston - Charlotte - Chicago - Cincinnati - Colorado Springs - Columbus - Dallas - Destin - Detroit - Denver - Flagstaff - Florence - Fort Lauderdale - Fort Worth - Hawaii - Hilton Head - Hollywood - Houston - Indianapolis - Kansas City - Las Vegas - Lexington - Little Rock - Los Angeles - Lubbock - Memphis - Miami - Miami Beach - Minneapolis - Montgomery - Myrtle Beach - Nashville - New Orleans - New York City - Oklahoma City - Orlando - Philadelphia - Phoenix - Portland - Providence - Raleigh - Reno - Richmond - St Louis - Sacramento - San Antonio - San Diego - San Francisco - San Jose - Savannah - Seattle - Sedona - Scottsdale - Tacoma - Tallahassee - Tampa - Tucson - Tuscaloosa - Virginia Beach - Waco - Washington
---
Find new hotels opened in popular destinations in Canada:
Calgary - Halifax - Montreal - Ottawa - Toronto - Vancouver

---
---
Find the latest hotels opened in popular destinations in Mexico:
Cancun - Los Cabos - Playa del Carmen - Riviera Maya

---
Find the latest hotels opened in popular destinations in the Caribbean:
Dominican Republic - Puerto Rico
---
---