This page contains third party links to our affiliates where we may receive a commission if you make a booking (at no extra cost to you).

---
New Hotels in Gatlinburg TN 2023 - 2024 Best Newest Openings
Find the newest, best new hotels in Gatlinburg TN (Tennessee), a popular resort town that is the gateway to the Great Smoky Mountains National Park. Gatlinburg is located 39 miles southeast of the city of Knoxville and 8 miles away from Pigeon Forge where you will find the Dollywood theme park.

---
If you would also like to see the latest new hotels opened in nearby Pigeon Forge click here.

---
Newest Hotels in Gatlinburg TN
New Choice Hotels Hotel in Gatlinburg TN opened in September 2023

803 East Parkway, Gatlinburg, TN 37738, United States

This new hotel in Gatlinburg TN was opened by Choice Hotels in September 2023. The MainStay Suites is located along the East Parkway, two miles away from Downtown Gatlinburg, two and a half miles away from the Twin Creeks Trail Trailhead, and within walking distance of a number of restaurants. At the property there is a choice of accommodation in spacious suites that all come with a fully equipped kitchen and a free continental breakfast included in the price of your stay. Amenities at the hotel include a business center, free Wi-Fi, a fitness center / gym, and free parking.
Visit the official Choice Hotels website

---
New Hilton Hotel coming to Gatlinburg TN in 2024

604 Airport Road, Gatlinburg, TN 37738, USA

This new resort hotel in Gatlinburg TN is currently due to be opened by Hilton on March 15, 2024 (opening date may change). The Embassy Suites By Hilton Gatlinburg Resort is located a mile away from the downtown area of the city, less than 10 minutes walk away from the Twin Creeks Trail Trailhead. The resort offers a range of spacious upmarket suites that come with a free made-to-order breakfast included in the nightly room rate, as well as free Wi-Fi internet access. Amenities at the property include an in-house restaurant and bar - The Embassy Restaurant & Bar, room service, complimentary evening receptions with drinks and light snacks, a resort style swimming pool with a lazy river and slides, a fitness center, a business center, meeting rooms, EV charging stations and free on-site self-parking.
---
New Resort in Downtown Gatlinburg TN opened in 2018

539 Parkway, Gatlinburg, Tennessee 37738, United States of America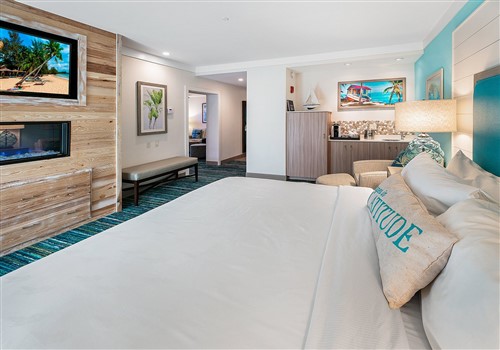 This new resort hotel in Downtown Gatlinburg offers a good location close to all the attractions in the center of the city (Anakeesta theme park, Ripley's Aquarium of the Smokies, Gatlinburg Space Needle), shopping at The Village Shops, and just a short walk away from a good selection of restaurants. The Margaritaville Resort Gatlinburg offers a choice of upmarket guest rooms or suites, a choice of restaurants, bars or room service, a luxury Spa, a large resort style outdoor swimming pool with a water slide, an indoor pool, a fitness center, free on-site parking and valet parking (fees apply).
---
If you would like to find more newly opened hotels in the state of Tennessee, click on one of the destination links below:

---
Chattanooga - Cookeville - Franklin -  Gatlinburg - Knoxville - Memphis - Nashville - Pigeon Forge - Union City

---
---
About New Hotels in Gatlinburg TN

This page was last updated: 2023-09-07
We try to keep our pages about new hotels in Gatlinburg, Tennessee (TN) as up-to-date as possible and will be updating this page when any new hotels open or when any upcoming hotels in Oklahoma City open for reservation. However, if you know of any good quality, recently opened new hotels not mentioned in the list above, or you are the owner / manager of an upcoming hotel in Oklahoma City opening soon and want some publicity for your grand opening, you can contact us here and let us know the details so that we can possibly add your property to our site.
Tags / Keywords:
New hotels in Gatlinburg TN - Newest hotels in Gatlinburg TN - New Gatlinburg hotels - Nuevos hoteles Gatlinburg - Nouveaux hôtels Gatlinburg - Neue hotels Gatlinburg
---