This page contains third party links to our affiliates where we may receive a commission if you make a booking (at no extra cost to you).

---
New Hotels in Conroe TX 2023 - Best Newest Openings
Find the newest, best new hotels in Conroe TX (Texas).

---
Newest Hotels in Conroe TX
New Upscale Hotel in Conroe TX opened in May 2023

1001 Grand Central Parkway, Conroe, Texas 77304, USA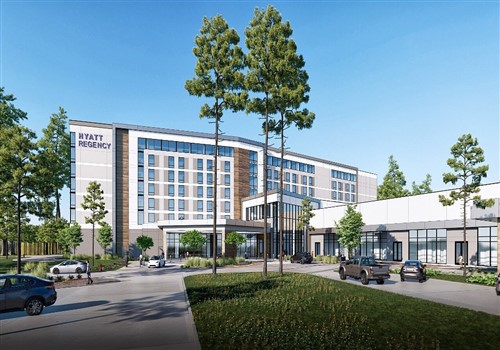 This brand new Hyatt hotel in Conroe TX was opened in late May 2023. The Hyatt Regency Conroe offers a total of 250 upmarket guest rooms and suites that feature oversized windows overlooking the green spaces and woods in the Grand Central Park. Amenities at the property include an outdoor swimming pool, a 24/7 gym, a lobby bar / lounge -  Avenue A, an in-house restaurant - Conroux, free Wi-Fi, a wide choice of meeting and event spaces, and free self-parking .
---
New Long-Stay Hotel in Conroe opened in 2020

1017 Outpost Drive, Conroe, TX 77304, United States of America

This new Marriott hotel in Conroe, Texas is aimed at long term guest offering a total of 87 studio and one-bedroom suites that come with a kitchenette or kitchen and a free breakfast is included in the price of your stay. Amenities at the TownePlace Suites Conroe include an outdoor swimming pool, a fitness center, guest laundry facilities, a patio area with a fire pit and a grill, free Wi-Fi, a meeting room and free on-site parking.
---
Newly Renovated Resort in Lake Conroe opened in 2020

600 Margaritaville Parkway, Conroe, TX 77356, United States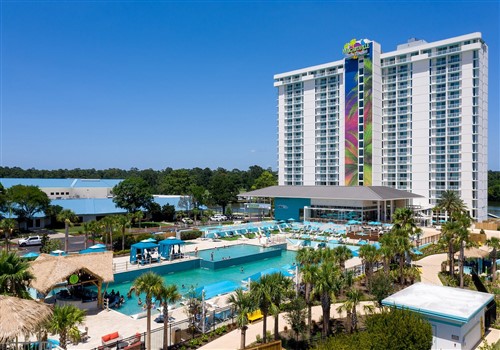 This newly renovated resort hotel in Lake Conroe was re-opened in 2020 in what was formally known as the La Torretta Lake Resort & Spa. The Margaritaville Lake Resort offers accommodation in 303 upscale suites and 32 waterfront cottages. Amenities at the property include a good choice of dining venues & bars, a swimming pool, an 18 hole golf course and a Spa.
---
---
About New Hotels in Conroe TX

This page was last updated: 2023-05-25
We try to keep our pages about new hotels in Conroe, Texas (TX) as up-to-date as possible and will be updating this page when any new hotels open or when any upcoming hotels in Conroe open for reservation. However, if you know of any good quality, recently opened new hotels not mentioned in the list above, or you are the owner / manager of an upcoming hotel in Conroe opening soon and want some publicity for your grand opening, you can contact us here and let us know the details so that we can possibly add your property to our site.
Tags / Keywords:
New hotels in Conroe TX - Newest hotels in Conroe TX - New Conroe hotels - Nuevos hoteles Conroe - Nouveaux hôtels Conroe - Neue hotels Conroe
---
---