This page contains third party links to our affiliates where we may receive a commission if you make a booking (at no extra cost to you).

---
New Hotels in Merrillville Indiana 2023 - 2024 Best Newest Openings
Find the newest, best new hotels in Merrillville Indiana (IN), USA.

---
Newest Hotels in Merrillville Indiana
Tru by Hilton Merrillville (Upcoming 2024)

New Hotel coming to Merrillville Indiana in 2024

8410 Indiana Street, Merrillville, Indiana 46410, USA
This new Hilton hotel in Merrillville Indiana is currently due to be opened in March 2024 (opening date may change). The Tru by Hilton Merrillville IN is located only a short distance from the Southlake Mall (you can walk there in less than 10 minutes), 5 miles away from the Deep River Waterpark, and less than 15 minutes drive away from the Indiana University Northwest. At the property you will find modern, pet-friendly guest rooms that come with free Wi-Fi and a free hot breakfast included in the nightly room rate. The hotel also offers a range of amenities including a 24/7 fitness center, a heated indoor pool, a community area with a pool table, a business center, and complimentary on-site parking.
For more about this new Merrillville hotel and the latest on the Tru by Hilton Merrillville opening date:
Visit the official Tru by Hilton Merrillville website here >

---
Holiday Inn Express & Suites Merrillville
New IHG Hotel in Merrillville opened in 2019

8460 Mississippi Street, Merrillville, IN 46410, United States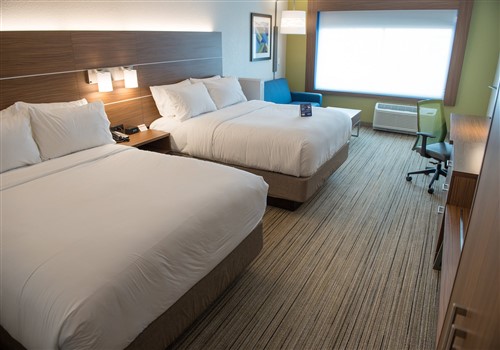 This new hotel near the Westfield Southlake Shopping Mall offers spacious, modern guest rooms or suites that come with a complimentary breakfast each morning included in the price you pay for a night's stay. The Holiday Inn Express & Suites Merrillville offers a good location close to many local restaurants and features a heated indoor swimming pool, free Wi-Fi internet access, 2 meeting rooms, free parking, and an on-site fitness center.

If you would like to learn more about this new InterContinental Hotels Group (IHG) in Merrillville:
You can visit the hotels official website by clicking here >

---
---
More new hotels in Indiana:
Fort Wayne - Indianapolis - Merrillville

---
About New Hotels in Merrillville Indiana

This page was last updated: 2023-11-12
We try to keep our pages about new hotels opening in Merrillville Indiana (IN) as up-to-date as possible and will be updating this page as and when any new hotels open for business or when any upcoming hotels in the Merrillville area open for reservation.
Merrillville Indiana is a town in the Chicago metropolitan area, so if you want to see more hotels in the area you should visit our new hotels in Chicago page here.

If you know of any good quality, recently opened new accommodation in the area that you think should be included in this page, you can help as keep the page as up to date as possible by contacting us here and giving us the details so that we can possibly add it to our site.
Tags / Keywords:
New hotels in Merrillville Indiana - Newest hotels in Merrillville Indiana - New Merrillville hotels - Nuevos hoteles Merrillville - Nouveaux hôtels Merrillville - Neue hotels Merrillville
---