This page contains third party links to our affiliates where we may receive a commission if you make a booking (at no extra cost to you).

---
New Hotels in Charlottesville VA 2023 - 2024 Best Newest Openings
Find the newest, best new hotels in Charlottesville VA (Virginia) - Little Mod Hotel (2023), The Forum Hotel (2023), Holiday Inn Express, Keswick Hall, The Draftsman.

Newest Hotels in Charlottesville VA

---
New Retro Hotel near UVA Charlottesville opened in 2023

207 14th Street Northwest, Charlottesville, VA 22903, USA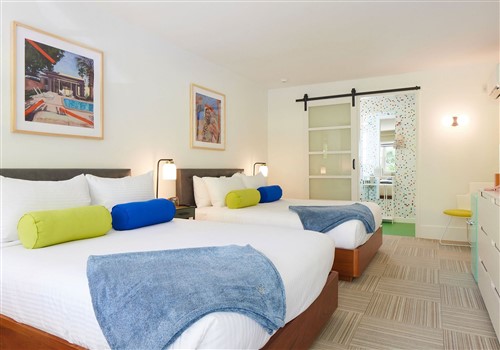 This new retro hotel in Charlottesville VA is housed in a recently reimagined 1960s building. The Little Mod Hotel Charlottesville is located just across the street from the University of Virginia, a short drive west of the city center. At the property there are a total of 15 stylish, retro guest rooms, 5 apartments, and an airstream food truck serving breakfast and lunch.

Visit the official Little Mod Hotel website here >
---
New Luxury Boutique Hotel in Charlottesville Virginia opened in April 2023

540 Massie Road, Charlottesville, VA 22903, United States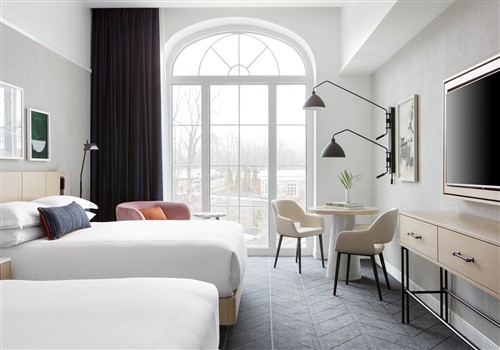 This new InterContinental Hotels Group (IHG) luxury boutique hotel is located close to the Darden School of Business at UVA (University of Virginia). Kimpton - The Forum Hotel Charlottesville offers a choice of upscale guest rooms or suites, and features two dining venues (a restaurant + a neighborhood pub), room service, a 5-acre arboretum and botanical garden, a 24/7 fitness center and valet parking (fees apply).
---
New IHG Hotel in Charlottesville opened in early 2022

870 Pantops Corner Way, Charlottesville, Virginia 22911, USA

This new IHG hotel is located less than 2 miles east of Downtown Charlottesville, just south of the Darden Towe Park. The Holiday Inn Express & Suites Charlottesville offers 125 modern accommodations that come with a free breakfast, free parking and free Wi-Fi. At the hotel you will find a fitness center, an indoor pool, guest laundry facilities, and a meeting room.

---
Newly Updated Luxury Resort in Charlottesville VA opened in October 2021

701 Club Drive, Keswick, VA 22947, USA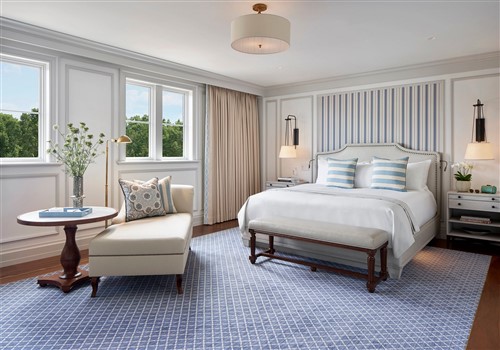 This newly reimagined country retreat resort hotel in the Charlottesville area has been completely updated. The Keswick Hall hotel is located 8 miles east of the city center in the beautiful Virginia countryside offering upscale accommodation in rooms or suites, and featuring the Full Cry Golf Course, a luxury Spa, an infinity pool, a family pool, a tennis center, a fitness center, and a selection of upmarket dining venues.

---
New Hotel in Downtown Charlottesville opened in 2018

1106 W Main Street, Charlottesville, VA 22903, United States

This new Marriott hotel in the Downtown area of Charlottesville is an upscale boutique hotel close to the UVA Medical Center. The Draftsman, Autograph Collection Charlottesville offers stylish accommodation and features an upmarket restaurant, room service, a fitness center, free Wi-Fi, and valet parking (fees apply).
---
---
Find more New Hotels in Virginia, USA:
Alexandria - Charlottsville - Fredericksburg - Lynchburg - Roanoke - Richmond - Virginia Beach

About New Hotels in Charlottesville VA
We try to keep our pages about new hotels in Charlottesville, Virginia (VA) as up-to-date as possible and will be updating this page when any new hotels open or when any upcoming hotels in Charlottesville VA open for reservation. However, if you know of any good quality, recently opened new hotels not mentioned in the list above, or you are the owner / manager of an upcoming hotel in Charlottesville VA opening soon and want some publicity for your grand opening, you can contact us here and let us know the details so that we can possibly add your property to our site.
Tags / Keywords:
New hotels in Charlottesville Virginia, Newest hotels in Charlottesville VA, New Charlottesville VA hotels, New hotel near UVA

---
---