This page contains third party links to our affiliates where we may receive a commission if you make a booking (at no extra cost to you).

---
The Renaissance New York Harlem is a new hotel in Harlem NY that was opened by Marriott in August 2023.
This new Marriott hotel in Harlem is located next to the Apollo Theatre offering a total of 211 modern, stylish guest rooms and suites over 26 floors.
The property features the Victoria Restaurant & Bar and an on-site fitness center.
Amenities at the Renaissance New York Harlem Hotel:

Free high speed Wi-Fi
5 meeting rooms (total 855 sq m of space)
Business center

Restaurant & Bar on-site
Room service
Fitness center on-site
Pet Policy - Pets Not Allowed
---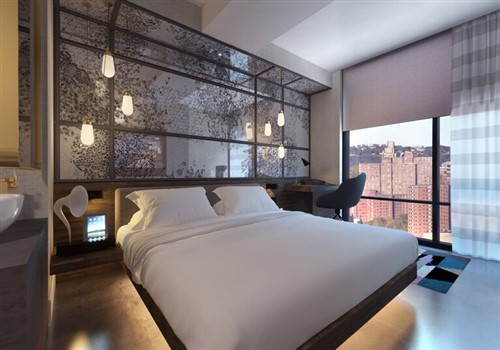 ---
FAQ's for this New Hotel in Harlem NYC
The opening date for the Renaissance Hotel Harlem was August 26, 2023..

Room rates for this new hotel in Harlem will vary depending on what time of the year you are travelling and what type of room you are booking. To get the best deals for you stay, you should compare room rates from as many different booking agents as you can. This is why we recommend you visit the Renaissance Harlem page on Tripadvisor where many different booking agents compete to offer you the cheapest deals. You may also want to check out the offical Marriott website to see what opening deals they are offering.
The nearest airport to the Renaissance hotel in Harlem NYC is LaGuardia Airport (LGA) which is located just over 7 miles away.

The Renaissance hotel is located 16.5 miles away from John F Kennedy International Airport (JFK).

The northern area of Central Park is located a mile away?

---
Below is the official desription of the property from Marriott's official webpage for the Renaissance New York Harlem when first published:
The Renaissance New York Harlem offers a redefined experience to the neighborhood of Harlem in an unmatched setting. Ignite your senses and cravings for an authentic Harlem experience connecting the community amongst the arts, music, cuisine, and heritage. Let us fuel your soul with daily Evenings at Renaissance where our Rooftop Bar compliments vibrant city views. Grab a bite of soul fusion food and a cocktail while taking in the sound of piano in Victoria Lounge located in our Lobby Space. Showcasing thoughtfully designed and curated guestrooms and suites bringing you Harlem's' history, art, and culture pair with eye-catching views of Central Park, the Hudson and Harlem River. Uncover Harlem and New York City with the hotel's convenient location within walking distance to historical landmarks including the Apollo Theatre and iconic Central Park, a short subway to Times Square and major midtown venues, and an easy distance away from LaGuardia Airport (LGA).
---
Address of the Renaissance Hotel Harlem:
233 West 125th Street, New York, New York 10027, United States
Telephone number of the Renaissance Hotel Harlem:
+1 332 266 8722
---
The information on this page about this new Marriott hotel in Harlem, New York City was correct at the time of publication but may change over time. Please note: some facilities may not be open at the start of operations so please use the link to the official Marriott website below to check:

Official website for the Renaissance Harlem

---
Leave New Hotel in Harlem page for the main new hotels in NYC page

---
Find more new hotels in New York

Albany - Bronx - Brooklyn - Flushing - Lower Manhattan (Downtown NYC) -  Midtown Manhattan - New York City - Queens - Rochester