This page contains third party links to our affiliates where we may receive a commission if you make a booking (at no extra cost to you).

---
New 5 Star Hotels in New York City (NYC) - Newest Top Luxury Hotels
Find the best new 5 Star hotels in New York City (NYC) opened recently over the last few years.

---
Newest new luxury hotels in New York City:

---
The Wall Street Hotel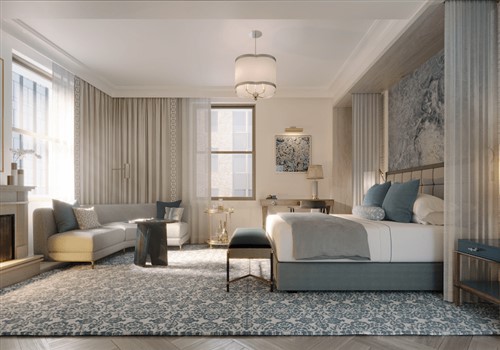 Opened in June 2022.

The Wall Street Hotel is a new 5 Star hotel in the Financial District of New York City located at 88 Wall Street. The hotel offers a total of 180 guest rooms and suites. Rooms range from 28-30 Sq M and come in Deluxe, Grand, Corner and Harbor (with views of the New York Harbor) varieties. Suites come in the following varieties: Carnegie, Nesbitt, Great Pearl and Otto and measure between 43 Sq M and 74 Sq M. The hotel features an on-site restaurant, all-day lobby lounge and bar, the Top Floor Lounge, Bar, & Terrace and a 24-hour fitness center.
---
Casa Cipriani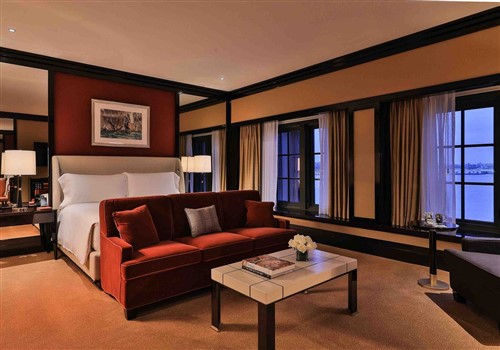 Opened in late 2021.
Casa Cipriani is new 5-star hotel in Lower Manhatten located on the edge of the water, housed in the Battery Maritime Building. The property offers top-of-the-range accommodation in rooms and suites with views over to Brooklyn Bridge and the Statue of Liberty.
---
Pendry Manhattan West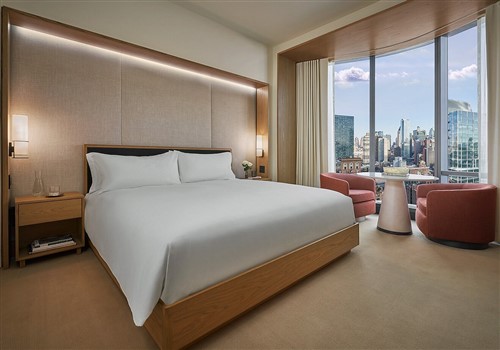 Opened in September 2021.
The Pendry Manhattan West is a new luxury 5-star hotel located in the west side of Manhattan on West 33rd Street.
The property offers a total of 164 luxurious guest rooms and 30 suites with floor to ceiling windows offering stunning views over the city skyline.
The hotel features a collection of upscale dining venues and bars, a fitness center and movement studio.

---
Park Lane Hotel New York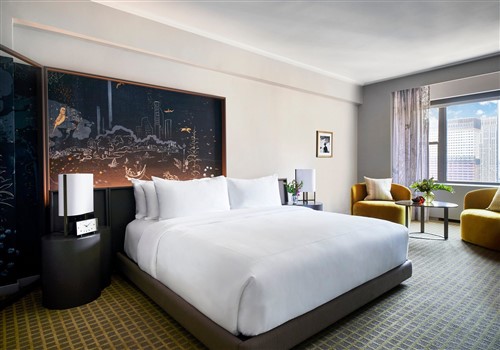 Opened in September 2021.
The Park Lane Hotel is housed in a 47-story skyscraper overlooking Central Park that was formerly the home of The Helmsley Park Lane. The hotels 611 recently renovated guest rooms and suites have been reimagined by the Yabu Pushelberg design firm and now offer a modern, minimalist design.
The Park Lane features the 47th floor Rooftop Lounge, Harry's New York Bar with an outdoor terrace, and Rose Lane, a Parisian art nouveau-inspired bar.

---
ModernHaus SoHo

Opened in May 2021.

The ModernHaus SoHo Hotel is a new luxury hotel in Downtown Manhattan, New York, located in one of the most dynamic neighborhoods of NYC, SoHo. The property was formerly The James New York SoHo and now offers 114 updated, modern, luxurious guest rooms and suites.
The hotel features a fine dining restaurant (Veranda), a rooftop bar (Jimmy) located on the 18th floor offering fine views over the city and the Hudson River (along with an outdoor swimming pool), and the Jumpin Jacks all-day restaurant.

---
Equinox Hotel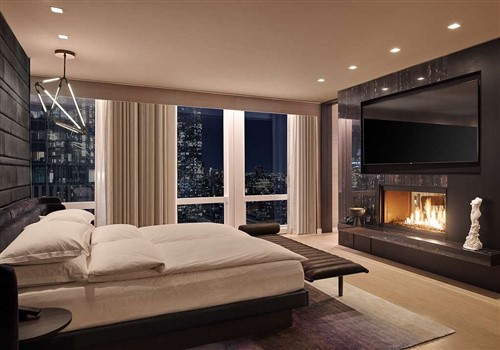 Opened in 2019.

A new luxury boutique hotel in NYC located in Hudson Yards (West Side of Midtown Manhattan) featuring a spa and a pool overlooking the Hudson River.

---
The Times Square EDITION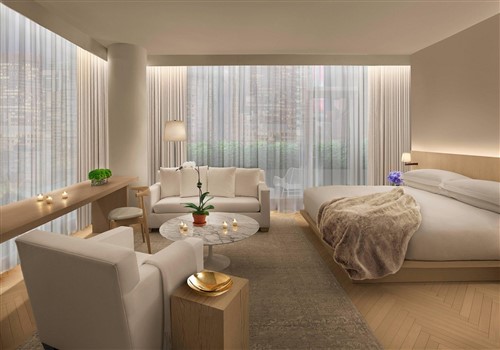 Opened in 2019.

A new luxury 5-star hotel in Times Square NYC offering 452 guest rooms and suites. The hotel features six dining and entertainment venues.

---
Go back to new hotels in NYC page

---
Find more new hotels in New York

Brooklyn - Flushing - Lower Manhattan (Downtown NYC) -  Midtown Manhattan - New York City - Queens - Rochester