This page contains third party links to our affiliates where we may receive a commission if you make a booking (at no extra cost to you).

---
New Hotels in Sharjah - Best Newest Openings
Find all the latest new hotels in Sharjah that have opened recently over the last few years.

Located right next door to the more popular destination of Dubai, the Emirate of Sharjah in the United Arab Emirates offers an ever-increasing supply of new places to stay with room rates often cheaper than you would pay in Dubai.
List of the Latest New Hotel Openings in Sharjah, United Arab Emirates
Jamal AbdulNasser Street Plot 393, Al Majaz 2, Sharjah, United Arab Emirates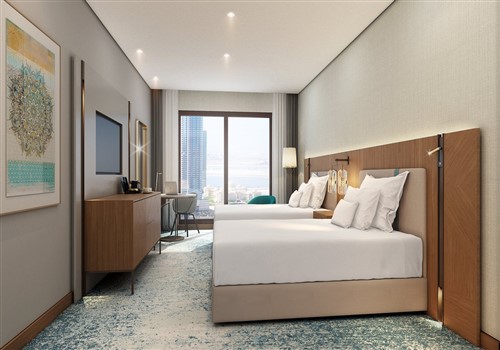 Located along the Al Majaz Waterfront, just a short walk away from Sharjah city centre, the DoubleTree by Hilton Sharjah Waterfront Hotel & Residences is a brand new 4-star hotel in Sharjah opened in October 2021. The hotel offers a total of 264 accommodations, from guest rooms to one-bedroom or two-bedroom apartments with floor-to-ceiling windows overlooking the waterfront. The property features an upscale on-site restaurant the Majdolin Restaurant, the Majdolin Terrace, the Banyan Café, an indoor lap pool with a pool bar, male and female fitness centres and a business centre.

---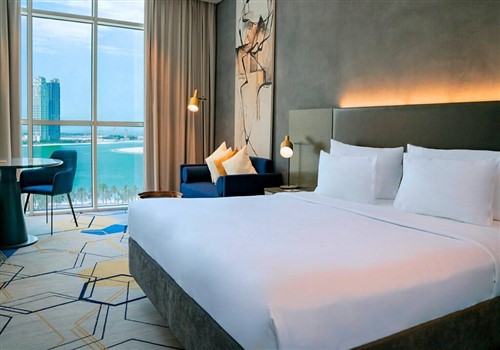 This new 5 Star hotel in Sharjah city centre was opened in early 2020. The Pullman Hotel offers a range of stylish guestrooms and suites, two restaurants and a pool bar, a fitness studio with indoor and outdoor pools and a spa.
---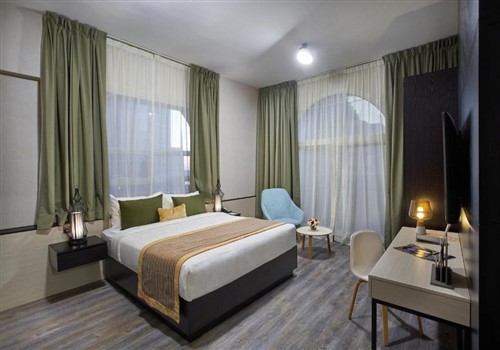 This new 3 Star hotel in Sharjah was opened in early 2020. The Time Express Hotel offers 50 guestrooms and 5 suites with a kitchenette. Located just 15 minutes walk away from Al Khan Beach, the hotel features an all-day restaurant, a rooftop swimming pool and a 24 hour fitness centre.
---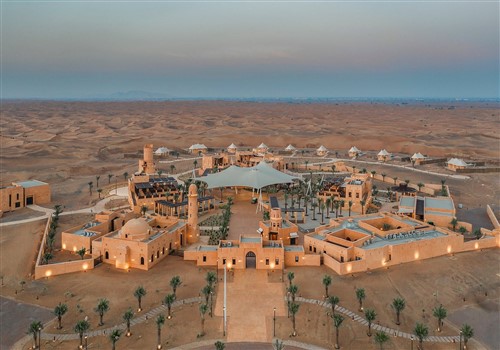 The Al Badayer Retreat is a new 5 Star desert retreat in Sharjah opened in late 2019. Accommodation on offer comes in the form of luxurious guestrooms or you can choose to stay in a fully equipped tent. Facilities at the property include two restaurants, an indoor pool, gym and meeting rooms.
---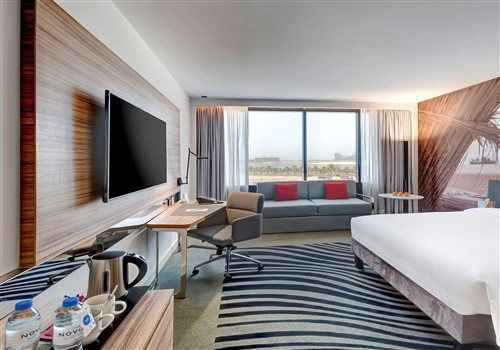 This new 4 Star hotel in Sharjah opened in 2019 and offers 200 modern, stylish guestrooms and suites with either a city view or overlooking the Al Khan Lagoon. Facilities at the Novotel Hotel Sharjah Expo Centre include an on-site restaurant, coffee shop, business centre, an outdoor swimming pool, gym and a spa.
---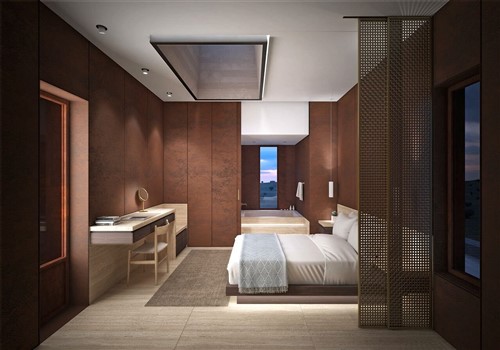 The Al Faya Retreat is a unique new luxury desert retreat opened in 2019. The property is located in the Mlieha region of Sharjah surrounded by the desert dunes and offers just 5 luxurious guestrooms. Facilities at the retreat include a spa, outdoor saltwater pool, library, rooftop terrace, BBQ area and a restaurant.
---
This new 4 Star hotel in Sharjah city centre opened in early 2019. The Four Points by Sheraton Hotel features an outdoor swimming pool, fitness centre, two restaurants, a cafe and six meeting rooms.
---
A new luxury nature retreat in Kalba, Sharjah opened in late 2018. The Kingfisher Retreat is located on the east coast of Sharjah on the Gulf of Oman and offers top-of-the-range accommodation in 20 luxurious tents that all have a private plunge pool.
---
Opened in December 2018, The Chedi Al Bait is a 53 key, new luxury resort in the heart of Sharjah. This 5 Star hotel is incorporated into a collection of heritage buildings and offers luxurious accommodation in eight different room and suite categories. Facilities at the resort include two restaurants, a cafe, luxury spa, pool and a private meeting room.
---
Upcoming New Hotels in Sharjah for 2023, 2024

There are a few new hotels in Sharjah in the pipeline that are due to open in the next few years including:
The Anantara Sharjah Resort - a new luxury beachfront hotel that was due to open in late 2022 (now delayed until 2024).
For more information, visit the official website:
https://www.anantara.com/en/sharjah

---
New Hotels in other areas of the United Arab Emirates
---
The nearby emirate of Dubai is the place to go for new hotels in the UAE - There is always somewhere new to stay here. You can see the latest hotel opening in Dubai here.
New Hotels in Dubai UAE
---
The capital of the UAE, Abu Dhabi has a new hotel open every now and then. If you want to stay in a new hotel in Abu Dhabi, you can see them here.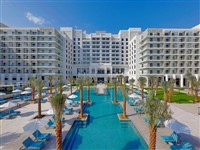 New Hotels in Abu Dhabi UAE
---
Pages on our site related to this new hotels in Sharjah page:
Latest new hotel openings in Abu Dhabi.
Latest new hotel openings in Dubai.
---
We try to keep our pages about new hotels in Sharjah as up-to-date as possible. However, if you know of any good quality, recently opened new hotels not mentioned, or you are the owner / manager of an upcoming hotel in Sharjah opening soon and want some publicity for your opening, you can contact us here and let us know the details so that we can possibly add the property to our site.
---
Tags / Keywords:
New hotels in Sharjah UAE
Newest hotels in Sharjah
Newly opened hotels in Sharjah
Nuevos hoteles Sharjah
Nouveaux hôtels Sharjah
Neue hotels Sharjah
---