This page contains third party links to our affiliates where we may receive a commission if you make a booking (at no extra cost to you).

---
Our first-ever joint hotel and pad in the world, YOTEL Miami consists of cleverly-designed rooms while YOTELPAD Miami, situated right above the hotel, features sleek, modern condominiums (we like to call them pads). Rooms and pads are connected through spacious shared spaces and communal areas.
Your PAD is the epitome of efficiency, with custom European kitchen and bath cabinetry with stone finishes, contemporary flooring and beautifully made furniture and that transforms to do everything you need. We have carefully cultivated floorplans with integrated living and dining areas so that every inch works smarter to keep your PAD purchase price down.
YOTEL Miami is centrally located in the heart of Miami's bustling, pedestrian-friendly Urban Core. Our Downtown Miami location is within walking distance of world-class entertainment and concert venues, a burgeoning international dining scene, retail and day & nightlife options galore.

---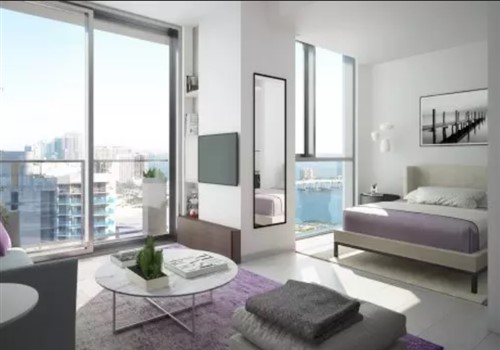 Book a pad at the YOTELPAD Miami >
---
Go back to new hotels in Miami Florida page

---