This page contains third party links to our affiliates where we may receive a commission if you make a booking (at no extra cost to you).

---
Welcome to Vida Beach Resort Marassi Al Bahrain, a chic beachfront paradise designed to relax, rejuvenate and reconnect. With direct access to the beach, Marassi Galleria shopping mall, and experiential rooftop dining, enjoy the perfect balance of tranquility and vitality at the hottest waterfront destination in Marassi Al Bahrain.
Take a walk on the gleaming sandy beach, chill by the pool, eat your heart out or soak in the endless sea views from your private balcony. Vida Beach Resort Marassi Al Bahrain is the hottest beach destination designed to relax, rejuvenate, and reconnect.
Amenities:
Take a dip in our infinity pool overlooking the postcard-perfect Marassi beach.
Our Gym facilities come with jaw-dropping sea views, high-tech Technogym fitness equipment, large outdoor sea-view terrace for yoga sessions, and separate changing rooms.
Take a stroll down to the beach at sunset as you walk straight out of our property.
Our Kids' Club is the most fun filled place for your little ones. With lots of activities, playtime options and things to do, your kids will never get bored here, leaving you to some me-time.
From pearl diving to banana boat rides, we got all your maritime adventure needs covered!
Dining:
Specialising in favourites from the Mediterranean region, infused with local flavours, Bistro seamlessly blends Vida's characteristic vibes with a rich gastronomic experience. With organic ingredients lovingly sourced straight from Bahraini farms paired with an extensive wine list featuring exciting new labels, this elegant dining affair will sure-fire impress. Don't forget to order our signature, freshest delights from the sea!
Because eating clean is cool! At Origins, you can eat your heart away without counting the calories. With freshly sources ingredients and a clean menu for the fitness freaks, Origins Marassi Bahrain is a sequel to the chic, contemporary eatery in Dubai where foods equals taste and health!
A gorgeous bright pool bar with insane views serving delicious poolside snacks, lunch and dinner. This is the perfect spot to sip on those cocktails and soak in the incredible views of the sea!

---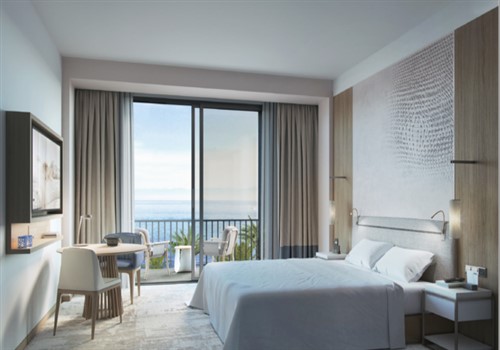 Vida Beach Resort Marassi Al Bahrain
---
Go back to new hotels in Bahrain page

---