This page contains third party links to our affiliates where we may receive a commission if you make a booking (at no extra cost to you).

---
EDITION is an unexpected and refreshing collection of individualized, one-of-a-kind hotels.
Just minutes from Tokyo Tower and Tokyo's renowned art, cultural landmarks, nightlife and restaurants, The Tokyo EDITION, Toranomon offers an unprecedented intersection between tasteful designs, innovation and elevated service.
Showcasing premier dining, entertainment and amenities under one roof, our sophisticated hotel in downtown Tokyo offers an oasis of sophistication in Japan. Every amenity achieves our special brand of balance, from a specialty restaurant and signature cocktail bar to a 24-hour gym and custom-designed spa with six treatment rooms.
The Tokyo EDITION, Toranomon features 206 hotel rooms and suites with iconic views of the Tokyo skyline, including 15 rooms with outdoor terraces overlooking Tokyo Tower and Tokyo Bay.
Experience unparalleled comfort at The Tokyo EDITION, Toranomon.

---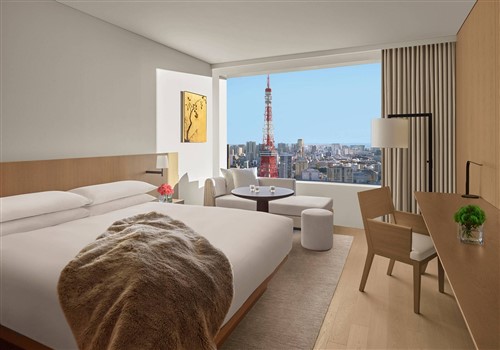 Book a room at The Tokyo EDITION, Toranomon >
---
Go back to new hotels in Tokyo page

---