Opened in late 2020.

This page contains third party links to our affiliates where we may receive a commission if you make a booking (at no extra cost to you).

---
Welcome to The Guardsman. A new 5 star hotel in Westminster, London.
A boutique hotel with the feel of a members club. A location that's fit for kings and queens. A level of service that is second-to-none and is tailored to you, personally. We get to know our guests and remember their wants, needs and preferences. We make sure they feel pampered but not pressured. Our team is ever-present yet discrete, attentive but not intrusive.
Rooms that have everything you want, plus a little bit more. Full of simple luxuries that are just a touch better than you'd expect. Beds that you sink in to, bespoke toiletries, a personal bar stocked with more than just the run of the mill usual options, even the coffee is specifically sourced to be that bit more special.
On our doorstep, you'll find one of London's most iconic neighbourhoods, St James's. Famous palaces and parks are all a short walk away. Stroll to Tate Britain through residential streets, mingle with politicians in the coffee shops around Westminster or hop on the tube to discover everything that London has to offer from this most central location. St. James's Park Underground station is just 100m away whilst the central hub that is Victoria Station is also within close walking distance.

---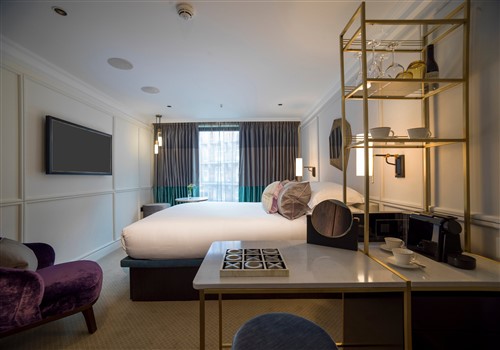 The Guardsman London
---
Go back to new hotels in London page

See more of the latest new luxury hotels opened in London here

---