This page contains third party links to our affiliates where we may receive a commission if you make a booking (at no extra cost to you).

---
Nestled deep within the viridescent foothills of the ancient capital's north western mountain range, ROKU KYOTO have redefined the pinnacle of luxurious escape in Japan's most historically and culturally revered cities. Beneath the breathtaking panorama of the Takagamine mountains, discover bespoke experiences woven seamlessly into an area of stunning natural seclusion.
Reawaken your curiosity by exploring our pristine forested grounds, take a stroll accompanied by gentle murmur of the Tenjin-river, and as evening draws in, bask under the stars in our elegant onsen-thermal pool.
At this tranquil sanctuary, you will reconnect with the deeper spirit of Kyoto in a region that has inspired Japanese artisans and nobility since the 15th century.
Paying homage to the artist residence established on these very grounds of the revered 16th century Japanese artist Koetsu Honami, we have seamlessly incorporated the resplendent Japanese design elements into the aesthetics of our accommodations at Roku Kyoto.
Named after the entrancing river that flows through the resort grounds, our restaurant TENJIN encompasses 3 distinct yet complementary elements: TENJIN Chef's Table, TENJIN All-day Dining, TENJIN The Bar.

---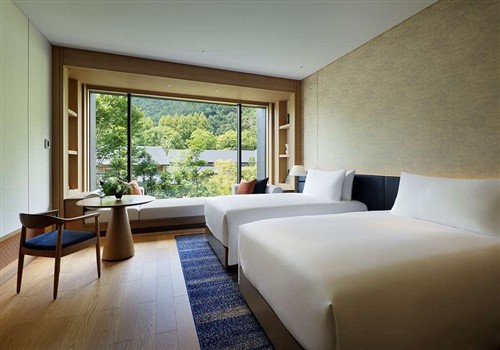 Book a room at the ROKU KYOTO >
---
Go back to new hotels in Kyoto, Japan page

---