This page contains third party links to our affiliates where we may receive a commission if you make a booking (at no extra cost to you).

---
A love letter to Vienna and its history, an ode to contrasts that complete each other. This hotel celebrates bold decisions, individualism, spectacular design, breathtaking history and contemporary luxury. Be our guest and discover all the exciting stories, wonderful details and colorful gems THE LEO GRAND has to offer.
Dive in and discover this extravagant world, fall in love with the impeccable interior and experience how history and the present perfectly co-exist in this unforgettable experience. THE LEO GRAND is more than a hotel, it is an oasis in the heart of the city, a place to retreat but at the same time a hotspot, a place to be for travelers and locals, a piece of art that comes to life.
Rooms & Suites
With courage towards uniqueness and with a strong focus on the history of the building, THE LEO GRAND was designed to be a colorful, extraordinary piece of art. Traditional patterns were interpreted in a contemporary way and baroque design was transformed to meet current needs. This hotel is an extravaganza of experiences and stories that wait to be discovered in every corner of the house.
Eat & Drink
A colorful oasis in the heart of Vienna invites you to fully indulge in the fine things in life. DOTS at THE LEO GRAND, located in the spectacular inner baroque courtyard of THE LEO GRAND, is THE hotspot in the city center of Vienna. Discover avant-garde fusion cuisine accompanied by relaxed tunes in the most beautiful ambiance of the city and fall in love with the unique spirit of this wonderful location.
---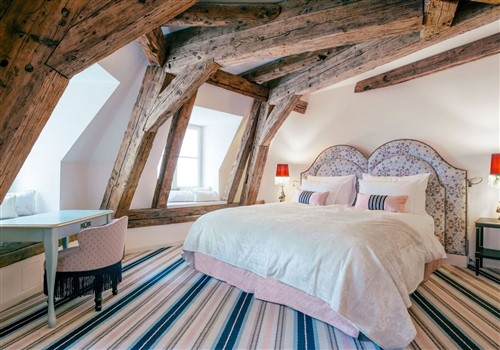 Book a room at the Leo Grand Vienna >
---
Go back to new hotels in Vienna page
---