Opened in April 2021.

This page contains third party links to our affiliates where we may receive a commission if you make a booking (at no extra cost to you).

---
Just a few blocks from the beach and steps from Miami's cultural icons, our hotel is central to it all while still feeling like a secluded getaway. Tucked away on the Collins Canal, you're within easy walking distance of The Bass Museum of Art, Miami City Ballet, and Miami Beach Botanical Garden. Head south and find yourself in the middle of South Beach's dynamic nightlife or go north to seek out the quieter shores of Mid-Beach.

We've outfitted the rooms at KAYAK Miami Beach with sleek connected TVs, Marshall speakers, Revival New York linens and Le Labo bath amenities. Handcrafted details emphasize a Streamline Moderne design, making you feel immersed in Miami even when you're in the room.

Your stay at KAYAK Miami Beach is whatever you want it to be: enjoy seamless access to your room, always-on guest services, and reservations through OpenTable for our on-site restaurant, Layla.

---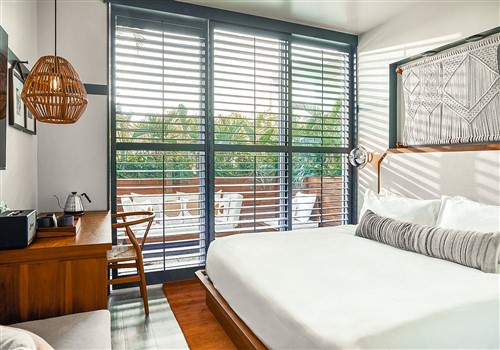 KAYAK Miami Beach Hotel
---
Go back to new hotels in Miami Beach Florida page

---