This page contains third party links to our affiliates where we may receive a commission if you make a booking (at no extra cost to you).

---
Built in 1963 on Oahu's iconic Gold Coast, Kaimana Beach Hotel is Waikīkī's only boutique property located directly on the sand. With a soul that harkens back to the heyday of Waikīkī, and a rejuvenated identity that embraces today's thriving creative community, Kaimana Beach Hotel welcomes global wanderers to connect with Hawai'i's world-class sense of place.
The sky kisses the ocean, where paradise blends with modern Hawai'i hospitality.  Tastefully appointed rooms and suites ensure that whether you are here for a short time or a long time, you are sure to have a good time.
the rooms
Iconic Diamond Head views and idyllic Pacific Ocean backdrops will have you swooning. The perfect retreat after a long day of relaxing.
the suites
With space to lounge and vistas to sweep you off your feet, you may never want to leave.  And that's fine with us.  Elevate your stay with a penthouse experience, the ultimate in beach chic.
restaurant
A casual beach-centric menu offering Honolulu's best beachside brunch, lunch, and casual dinner.

---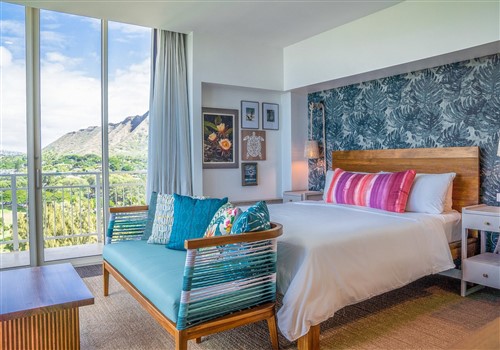 Book a room at the Kaimana Beach Hotel >
---
Go back to new hotels in Hawaii page

---