This page contains third party links to our affiliates where we may receive a commission if you make a booking (at no extra cost to you).

---
Hotel Safi Metropolitan is our third Hotel located in the heart of Valle Oriente in San Pedro Garza Garcia.
We have 7 spacious and elegant event rooms to suit your needs, with an exclusive location on Level 7 of Metropolitan Center.
Our priority is to provide you with security, top quality service and luxury amenities with highly trained staff, which will make your stay unbeatable.

    Sky suites with 360º views.
    Executive Rooms.
    Club Lounge at level 30.
    Great breakfast buffet.
    24-hour room service.
    Gym with panoramic view.
    Heated pool with jacuzzi, splash pool, waterfall and slide.
    Panoramic park with vitapista.
    Executive center.
    Laundry service.
    24-hour medical care.
    7 meeting rooms for social and business events.
    Car parking with valet.
    Extra babysitting service.
    Free WiFi throughout the hotel.
    O.Spa.Salon a few steps from your room.
---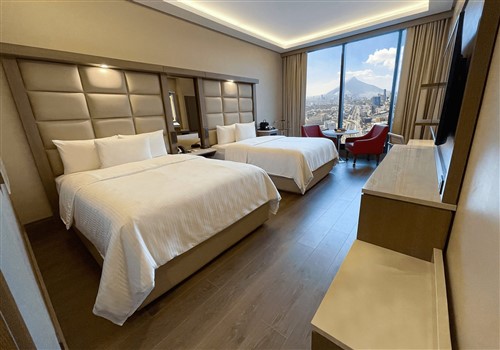 Book a room at the Hotel Safi Metropolitan Monterrey >
---
Find more recently opened hotels in Mexico

---