This page contains third party links to our affiliates where we may receive a commission if you make a booking (at no extra cost to you).

---
The Amauris Vienna embodies the grandeur and grace of Vienna. Step into a world of beauty, where the glamour of 19th-century style meets contemporary elegance. As part of Relais & Châteaux, it is our desire to protect and promote the richness and diversity of the world's cuisine and traditions of hospitality.
Located in Vienna's first district, on the famous and vibrant Ringstrasse boulevard, The Amauris is the perfect gateway to your stay in Vienna. In our neighbourhood, you will discover historical and gastronomic highlights, exciting sights and historic places.
Vienna, the city of art and culture, offers an immense variety through theatre performances, operas and musicals in the Vienna State Opera, Musikverein or in one of the numerous cultural venues, as well as the best exquisite art and exhibitions of renowned artists. The city makes every cultural heart beat faster.
Explore the city's opulent palaces, famous restaurants, coffeehouses and vibrant shopping districts and then come back to The Amauris for its five-star pampering.
Bold new flavours - with a love for tradition and an urge to experiment executive Chef, Alexandru Simon blends the cultural heritage of Vienna with bold new flavours. Dining in our gourmet restaurant Glasswing, one will experience meals with a perfect mix of innovation and tradition worthy of Vienna. Chef Simon's main focus is always on the highest quality, whether the food comes from the nearby region or the sea.
In The Amauris SPA, every detail is carefully thought out, from delicate colours, and relaxing scents to serene background sounds, we pamper you, giving guests a complete sense of renewal. Let the heat of our steam room or Finnish sauna relieve your stress, body and soul. Then cool down at the ice fountain before taking a dip in our pool, which is located at the centre of the Amauris's courtyard. Complete with massage jets and a counter-current system, it's one of the best ways to relax. The glass roof overhead makes swimming a scenic experience.
---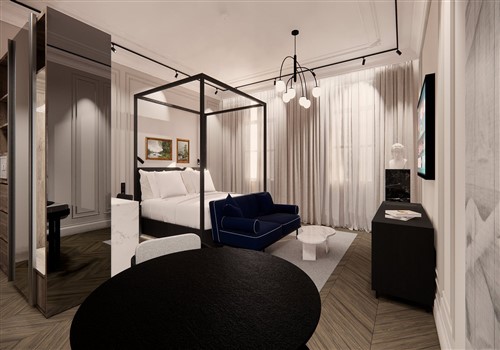 Book a room at the Amauris Vienna >
---
Go back to new hotels in Vienna page
---