This page contains third party links to our affiliates where we may receive a commission if you make a booking (at no extra cost to you).

---
Our very first spot south of the equator, Ace Hotel Sydney is nestled against the edge of the CBD in Surry Hills.
Casual, considered accommodations, in Surry Hills' historic Tyne House brick factory.

Room Types:
Small
Cosy quarters with either king or queen bed.
Medium
A room fit for a king (bed).
Terrace
Floor to ceiling windows, terrace and a view.
Double Double
A pair of double beds for family or just friends.
Medium Plus
A king bed, a daybed and room to live.
Accessible
Queen or king bed with accessible everything.
Large
King bed, extra high ceilings, all the space.
Loft Suite
Corner suite with king bed, tall ceilings and an extra room.
Suite
Extra big, two-room suite with sweeping views of the city.
Ace Suite
The biggest one. Great for groups, or just the two of you.
Ace Hotel Sydney is home to three super flexible events spaces — each one's a generous canvas, adaptable for everything from intimate weddings, to culinary workshops, record launches, dinners, receptions, whatever you need us to be. Spaces range in size from 49 sq m (527 sq ft) to 150 sq m (1614 sq ft) and can be connected and combined in all kinds of ways.

---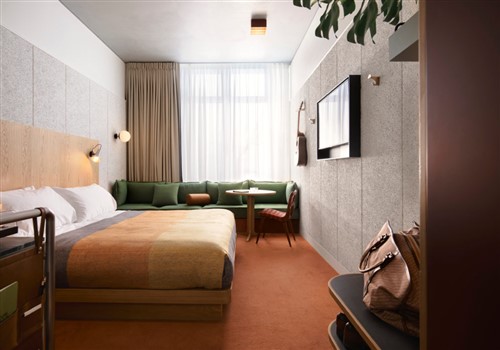 Book a room at the Ace Hotel Sydney >
---
Go back to new hotels in Sydney, NSW page

---